We love having family around for dinner.  And, when one of the family is coeliac, everyone eats gluten free.
Rhubarb and apple go so well together.  Oh yes, indeed!
Add in a crunchy and sweet crumble and you'll be dishing up a dessert that has stood the test of time, reappearing for decades at family dinners across the nation to delight all.  
We've opted for coconut sugar in this recipe, not because it's the most healthy sweetener, but because of the flavour which goes so well with the fruit, the cinnamon and the crumble.  For more information on coconut sugar, check out the note below.
It's time to give the humble rhubarb a plug – a highly nutritious vegetable (not a fruit) which is such a delicious addition to many dishes.  Full of fibre, vitamins C, K and Bs, plus the added benefit of the essential minerals calcium, magnesium, potassium and manganese.
Rhubarb – a boost for your immune system, good digestion and overall health.
Here's what you need:
Rhubarb and Apple
4 large Granny Smith apples, peeled and sliced
300g rhubarb stems, roughly chopped
2 tablespoons of coconut sugar
2 cinnamon sticks
1/2 cup water
Crumble
4 tablespoons of coconut sugar
4 tablespoons of almond meal
4 tablespoons of shredded coconut
2 tablespoons of buckwheat flour
1 tablespoon of brown rice flour
25g chilled butter, chopped
3 tablespoons of crushed almond slivers
Here's what you do:
Rhubarb and Apple
Place the rhubarb, apple, cinnamon sticks, coconut sugar and water in a large saucepan over low heat. Begin to cook by stirring occasionally to make sure the sugar is dissolved.  Increase heat slightly and cook, stirring occasionally for about 20 minutes or until the apple is softened.
Note – The rhubarb will being to fall apart quicker than the apple.
Set aside to cool slightly and put the fruit mixture into an oven proof dish.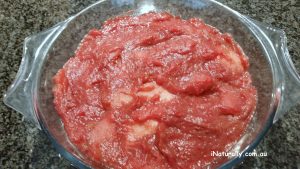 Crumble
In a bowl, combine the coconut sugar, almond meal, shredded coconut, buckwheat flour, rice flour and the crushed almond slivers.  Add the butter and use your fingertips to rub the butter into the crumble mix until it is like breadcrumbs.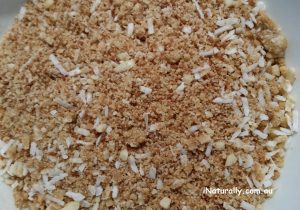 Spread the crumble mixture over the rhubarb and apple.
Bake in a moderate oven (180C) for approximately 20 minutes or until the top is golden.
Cool for 10 minutes before serving.
Serve with Greek yoghurt, coconut yoghurt, icecream or custard.
Enjoy!
Coconut Sugar – is very similar to palm sugar.  It's made by collecting the sap from the flower buds of the coconut tree, boiling it until it thickens and solidifies.  Then it's dried to a granule.  Good points are that it is sustainable, quite nutritious and low GI. Not so good point is that it contains sucrose, about the same as sugar and honey.
For other gluten free recipe ideas, check out:
Enjoy!