We all know what it's like – it can be hell!  The busiest and most frustrating time of the day for any busy woman or man (and who isn't busy, right?) is around 7.30 am.
You're trying to get ready for work, put on a load of washing, thinking about what to cook for dinner that night, doing a quick tidy up ……….. all at the same time as doing your best to organise sleepy and unco-operative kids for school.
Phew!!
Instead of reaching for the packaged cereal, here's a quick and highly nutritious breakfast to keep energy up, boost mood, control anxiety or overwhelm, increase brain function and stop late morning cravings from blood sugar drops.
It takes about 15 seconds to put together and the kids can help themselves if they're big enough.
Yoghurt, berries, nuts, seeds and coconut. Simple but delicious!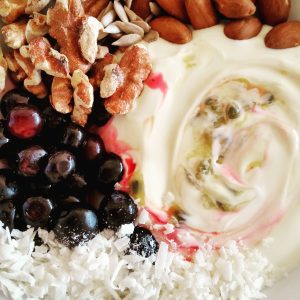 Here's some ideas, but you can choose whatever ingredients you enjoy and have on hand.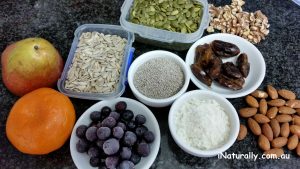 Yoghurt – Greek or coconut is delicious
Nuts – walnuts, almonds, macadamias, cashews, hazelnuts, brazil (so many varieties to choose from to list here, so enjoy your favourite ones).  Nuts are full of minerals, protein and fibre so don't skimp on them.
Fruit – berries, mandarins, apple, dried fruits, pears, passionfruit, mango, banana, pineapple – whatever is in season.  We use frozen blueberries for an extra burst of antioxidants.
Seeds – try some pepitas, sunflower, chia
Coconut – for a general dose of healthy fats to satisfy your blood sugar and help keep those cravings at bay.
Grains – you can add in oats or rice porridge for an added energy boost, or a granola is delicious sprinkled over the top
Do you have any other ideas you could share?  Let us all know in the comments below.
Enjoy!